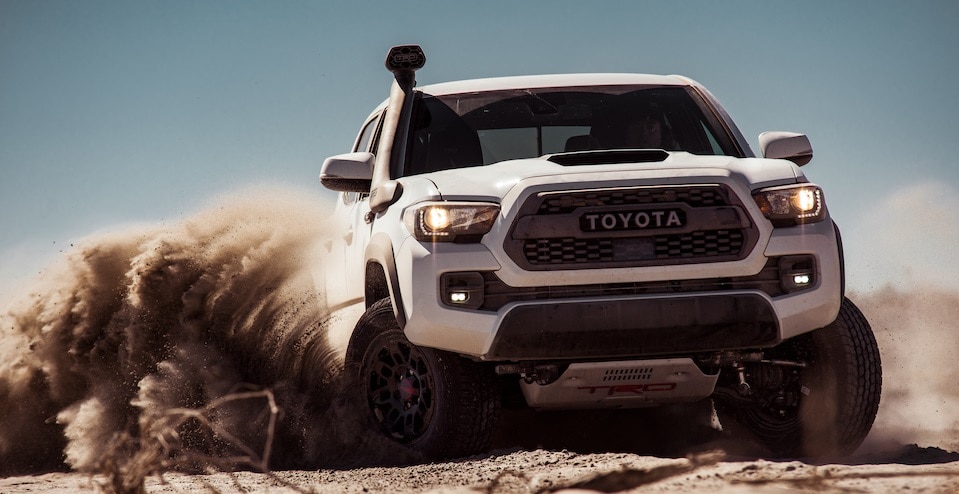 New Toyota Trucks in Glenside, PA
Toyota Motor Sales, U.S.A., Inc. (TMS) is pleased to provide dealers the opportunity to convey the above information. When reviewing a Toyota dealer's inventory, please note that all information, including but not limited to pricing and vehicle status, is provided by and is the sole responsibility of that dealer. As such, TMS is relying on the dealer to ensure the continued accuracy of the information provided. Any questions or concerns should be addressed with the applicable dealer. TMS disclaims all liability for any inaccuracies.
Which Toyota Truck Should I Invest In?
Here at Sloane Toyota of Glenside, we are proud to have a wide selection of vehicles available for you to consider investing in. If you are in the market for a truck, we have two distinct options available: the Toyota Tacoma and the Toyota Tundra. Which one should you invest in, though? Which one best suits your needs on the road, complements your personality, and ensures your success on the road?
There are some differences between these two vehicles, differences which are important to know about if you are preparing to invest in one of them. In order to assist you with your purchasing needs, we want to compare these two trucks so you can have a clearer understanding of which one may be right for you.
New Toyota Tacoma vs. New Toyota Tundra
There are some significant differences between these two trucks.
If you are looking for the most cost-effective option, the 2020 Toyota Tacoma may be the best option for you. It has a lower starting price, which makes it more accessible to folks with all types of incomes, while the 2020 Toyota Tundra is a bit more expensive.
When it comes to performance and power, the 2020 Toyota Tundra has a clear edge. Not only does it offer more raw horsepower -- 381 horsepower vs. 159 horsepower -- but also delivers more torque. Therefore, if you are looking for a vehicle that can deliver astonishing power and impressive strength, the Toyota Tundra may be the best investment option available.
However, if your focus is efficiency then you will want to invest in the 2020 Toyota Tacoma. It is capable of up to 21 combined mpg, 20 city mpg, and 23 highway mpg. The 2020 Toyota Tundra can only deliver up to 15 combined mpg, 13 city mpg, and 18 highway mpg.
There are some differences in what features these trucks offer drivers to take advantage of. For instance, the 2020 Toyota Tundra comes with a standard CD Player, standard MP3 capability, and a standard Aux Port. These features are not available on the 2020 Toyota Tacoma. Both trucks have Bluetooth capability and Voice Recognition technology.
Interior spaciousness is an important asset. For those who want more passenger space, the Toyota Tundra is the truck you'll want to invest in. Not only can it seat more people (6 passengers, opposed to the Toyota Tacoma's 4), but it also has more hip room, leg room, and head room.
In terms of safety technology, these two trucks are relatively equal in terms of what they offer. Both offer standard Lane Departure Warning and Low-Tire Pressure Warning, for example.
As you can see, the main differences between these trucks are in performance and spaciousness. If you prefer a more efficient truck that's a bit more compact, then you will love the Toyota Tacoma. If you need a truck that is powerful and has more interior space, then the Toyota Tundra is a better investment option.
Toyota Tacoma

Toyota Tundra

Ready To Learn More?
Finding a dependable vehicle is a necessity nowadays, particularly for folks who commute to work or need a vehicle that can handle professional job sites.
If you would like to learn more about our selection of vehicles, including the Toyota Tacoma and the Toyota Tundra, stop by our dealership today! Here at Sloane Toyota of Glenside, located in Glenside, PA, our team would be proud to help answer any questions you may have about the purchasing process.
Stop by today and we can help schedule a test drive with your preferred automotive option.
We are proud to serve folks in Jenkintown, Willow Grove, Trevose, Horsham and Ambler.
Make an Inquiry
* Indicates a required field